Puppy News
Puppy buyers guide videos
KC Puppy Buying Guide Episode 1
KC Puppy Buying Guide Episode 2
KC Puppy Buying Guide Episode 3
Puppies due late February 2015
Would those who have visited please give me an indication if they are ready for a pup this Spring (late April/early May), and anyone interested in being considered for a puppy from our next litter please get in touch to arrange to visit before the middle of February.
All puppies are reared in our home. When they are old enough to run around they play outside in the garden if it is warm and dry, or in the kitchen if too wet or cold; they are regularly handled by children of all ages who come to visit and play with them. They are socialised following the Kennel Club puppy plan. Pups leave here when they are fully vaccinated (around the age of 10-12 weeks). I also have the puppies tattooed and microchipped before they go to their new homes so there are no unpleasant surprises for them after they have moved.
I am quite happy to keep puppies a bit longer if their new owners are going to take a holiday before collecting their puppy - a good idea as the next few weeks can be fun but exhausting, while the puppy settles into its new surroundings.
All puppies leave here with bedding, collar & lead, food & bowl and lots of information about the breed, training and how to keep them happy and healthy.
If you would like any more information about our pups or forthcoming litters please Get in Contact with us.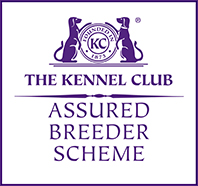 Watch this space for forthcoming news about our dogs.